Le domaine du château d'Ettevaux
The history of
Ettevaux castle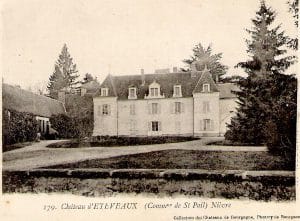 The castle was aquired in July 1748 by Zacharie Bertrand de Rivière, the mayor of Larochemillay, then it passed to the de Galembert Family in 1852, following the marriage of Louise-Marie-Joséphine Bertrand de Rivière and the viscount Anne-Marie-Charles de Bodin de Galembert.
Today, Ettevaux estate belongs to the 6th generation of the family de Galembert, Charly, Félicie and their 4 children. Together they decided to run a project around these values :
« customized welcome, relaxed calm, and rejuvenation in nature »
The conversion project for tourism of Ettevaux estate continued with the building of two cabins on stilts, two guest rooms, one burgundy rental house, and last but not least, renovation of the old stables for seminar groups or big families.